Work
Some products I've shipped
Case Studies
Borrowell Concept Car
Senior Director of Design
Borrowell is known for providing free credit scores to millions of Canadians, and has since added two new products to help build credit history.
This case study explores a variety of changes to the Borrowell app using a concept car prototype.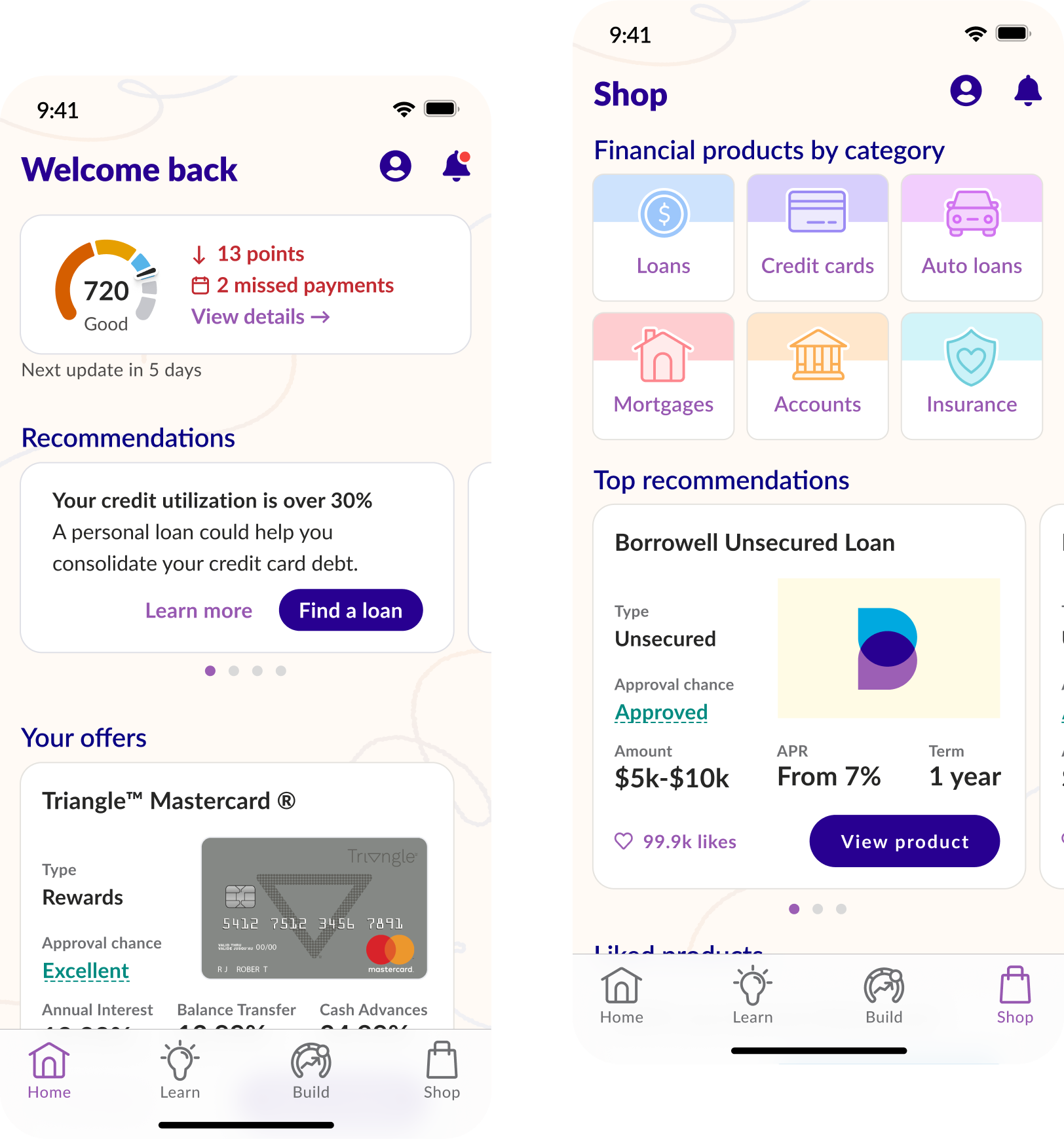 500px Portfolios
Design Director
A best-in-class portfolio product for professional photographers and hobbyists. Easily create accessible, responsive, customizable portfolios.
This case study examines the methodologies involved in its ideation, inception, and launch.
Flixel Cinemagraph Pro
Design Co-Founder
Flixel Cinemagraph Pro, winner of the prestigious Apple Design Award, is an app for creating beautiful photo/video hybrids.
This case study examines the evolution of Flixel from a consumer product to a professional product.
Recent Work
Blendeo
Design Co-Founder
Blendeo is an app for creating long exposures and light trails. It can be used standalone or in tandem with Flixel Cinemagraph Pro to create long-exposure cinemagraphs.
Nanny Lane
Design Director
A platform to help families find affordable childcare. This includes helping families find other families to share a nanny with.
TELUS My Account
Design Lead
I led a complete rebuild of the TELUS My Account app, used by millions of Canadians to manage all of their phone and internet services.
Through our efforts, the app went from a 2.4 star average rating across all platforms to a 4.5 star average rating.
McDonalds "Our Food, Your Questions" Campaign
Partner & Creative Director
As a founding partner of the Endloop Mobile agency, I led the interaction design for McDonalds Canada's "Our Food, Your Questions" campaign. It won 4 Webby awards & a Cannes Gold Lion.
Older Work
Warning: skeuomorphism!
Rethink Breast Cancer
Partner & Creative Director
Endloop Mobile's first project was building the Your Man Reminder app for Rethink Breast Cancer. The app provided regular reminders for women to check themselves for breast cancer, as well as directions on what to look for.
SoFit
Partner & Creative Director
Another Endloop Mobile production, SoFit was a social fitness app that let people compete with friends while raising money for charity. It was the official app chosen by the US State department for the 2012 London Olympics 'Walk a Mile' campaign.
Guardly
Head of Design
Guardly was a mobile safety platform designed to help in case of an emergency. Launching the app started a countdown timer which would send an alert to all emergency contacts via email, phone call, and text message.
Our journey of preparation at the DEMO conference was featured in a documentary called Ctrl+Alt+Compete.
TweetAgora
Design Co-Founder
My first iPhone app was TweetAgora, a Twitter client built around solving the signal-to-noise problem. It was the first iOS app to offer features like keyword filtering and mute.
We were selected to present at Chirp, Twitter's first (and last) developer conference. The conference was held in San Francisco, and we demoed our app to all 5500 attendees as well as a panel that included Marissa Mayer and Paul Graham.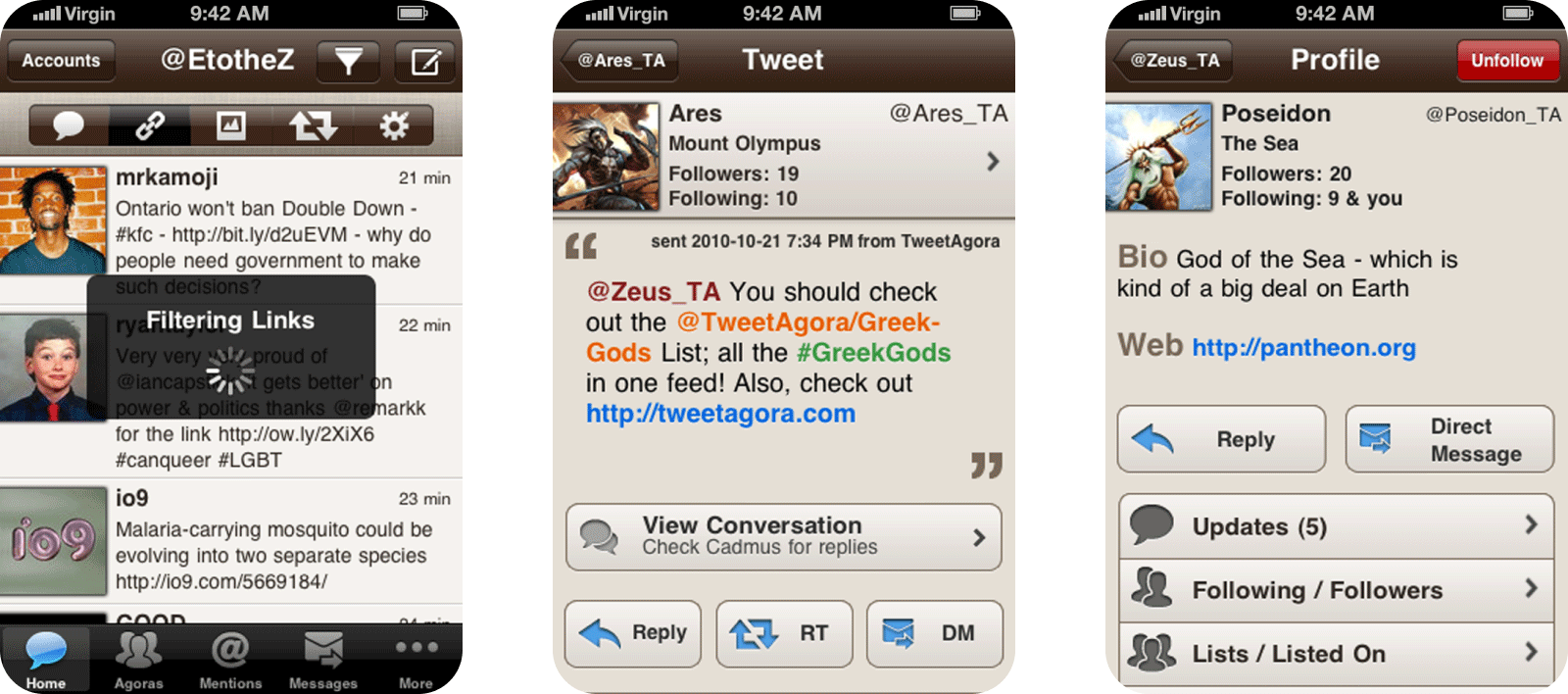 Choices Planner
Data Analyst / Interaction Designer
One of my first big projects as an interaction designer was translating Choices, a desktop app for career exploration, to the web.
Choices and Choices Planner were used by millions of students in high schools all across North America.